#13 - Is There Value In Value Investing?
On the multiple perspectives on value investing and a summary of Buffett's letter to shareholders of Berkshire Hathaway (1977)
This is a weekly newsletter on interesting articles covering business, finance, technology and human behavior. Subscribe by clicking the link below and we will send The Curious Cat to you every Saturday morning directly to your inbox
If you continue receiving this email in your Promotions tab, please move this email in your Inbox and mark it with a star. This would ensure that you get the newsletter in your inbox.
---
Hello,
Greetings from the Curious Cat.
Value investing as an investment philosophy popularized by Warren Buffett is about buying stocks that you believe are worth considerably more than you have to pay for them.
In his 1992 letter to shareholders of Berkshire Hathaway, Warren Buffett wrote -
We think the very term 'value investing' is redundant. What is 'investing' if it is not the act of seeking value at least sufficient to justify the amount paid? Consciously paying more for a stock than its calculated value – in the hope that it can soon be sold for a still-higher price – should be labelled speculation (which is neither illegal, immoral nor – in our view – financially fattening).

Whether appropriate or not, the term 'value investing' is widely used. Typically, it connotes the purchase of stocks having attributes such as a low ratio of price to book value, a low price-earnings ratio, or a high dividend yield. Unfortunately, such characteristics, even if they appear in combination, are far from determinative as to whether an investor is indeed buying something for what it is worth and is therefore truly operating on the principle of obtaining value in his investments.

Correspondingly, opposite characteristics – a high ratio of price to book value, a high price-earnings ratio, and a low dividend yield – are in no way inconsistent with a 'value' purchase.
Value investing, therefore, is the rigorous process of identifying and picking up bargain stocks.
In today's edition, we try to unpack
What Makes A Good Value Investor ?

Why Value Investing Works ?

The Hardest Questions To Answer For Investors

Is Value Investing Dead ? - Yes

Is Value Investing Dead ? - No
Let us explore the multiple strands of value investing that has made so many investors and fund managers wealthy.
---
What Makes A Good Value Investor?
Read the article 

here
Noted American investor, Whitney Tilson, in his book called "The Art of Value Investing: How the World's Best Investors Beat the Market" suggests thirteen key characteristics that make up a true value investor.
He writes that value investors typically -
1. Focus on intrinsic value—what a company is really worth—buying when convinced there is a substantial margin of safety between the company's share price and its intrinsic value and selling when the margin of safety is gone. 
2. Have a clearly defined sense of where they'll prospect for ideas, based on their competence and the perceived opportunity set rather than artificial style‐box limitations.
3. Pride themselves on conducting in‐depth, proprietary, and fundamental research and analysis rather than relying on tips or paying attention to vacuous, minute‐to‐minute, cable‐news‐style analysis.
4. Spend far more time analyzing and understanding micro factors, such as a company's competitive advantages and its growth prospects, instead of trying to make macro calls on things like interest rates, oil prices, and the economy.
5. Understand and profit from the concept that business cycles and company performance often revert to the mean, rather than assuming that the immediate past best informs the indefinite future.
6. Act only when able to draw conclusions at variance to conventional wisdom,resulting in buying stocks that are out‐of‐favor rather than popular.
7. Conduct their analysis and invest with a multiyear time horizon rather than focusing on the month or quarter ahead.
8. Consider truly great investment ideas to be rare, often resulting in portfolios with fewer, but larger, positions than is the norm.
9. Understand that beating the market requires assembling a portfolio that looks quite different from the market, not one that hides behind the safety of closet indexing.
10. Focus on avoiding permanent losses rather than minimizing the risk of stock‐price volatility.
11. Focus on absolute returns, not on relative performance versus a benchmark.
12. Consider stock investing to be a marathon, with winners and losers among its practitioners best identified over periods of several years, not months.
13. Admit their mistakes and actively seek to learn from them, rather than taking credit only for successes and attributing failures to bad luck.
Value investors, thus, have a concrete goal of preserving their capital.
---
Why Value Investing Works?
Read the article 

here
Value investing works for the simple reason because it forces investors to do what is unnatural - buy low and sell high. Individual investors underperform the stock market because they buy and sell at the wrong time. Value investing works because it "forces" you to buy stocks after stock corrections and during market downturns when it is psychologically the hardest to do so and to sell them when they become overvalued.
A broader holistic definition of value investing means taking into consideration both the stocks current value and its intrinsic value based on economic cycles, catalysts and growth opportunities.
Before we try to look at the value investing philosophy in a greater detail, let us look at the few questions faced by every investor.
---
Five Tough Questions To Answer In Investing
R

ead the article 

here
Ben Carlson writes that investing is tough due to the uncertain and unpredictable nature of the financial markets.
Some of the hardest questions to answer as an investor:
Am I being disciplined or stubborn? This is what every fundamental value investor in the world is asking themselves right now as growth stocks continue to pummel them at every turn.

Am I being foolish or staying ahead of the curve? History is littered with bubbles brought about from technological innovation.

How useful is market history? Investing involves some combination of studying the past, understanding the present and setting expectations about the future. But the past can often act as a crutch if you assume history will always repeat itself.

What if it really is different this time? Markets and investors incorporate the knowledge we have about the past. Memories help shape the way we view markets.

Do I have enough? This question is difficult because having enough for today says nothing about having enough for the future.
There are no easy answers but the only sound advice when dealing with irreducible uncertainty about the future is to focus on what you can control.
---
---
Is Value Investing Dead? - Yes!
Read the article 

here
The broad consensus around value investing is that it is an effective investment strategy generating superior returns as compared to growth stocks. However, value investing strategy has underperformed since the beginning of 2007. An interesting parallel drawn by the author is towards the technological revolutions which have simultaneously occurred during the period of underperformance of value investing strategy. Value stocks have underperformed since 2007 and another period of underperformance was from 1926 to 1941.
The five technological revolutions identified by the author involve the Industrial revolution (1793-1797) followed by the age of steam and railways (1848-1850), then the age of steel, electricity and heavy engineering(1893-1895). A key innovation from the 4th technological revolution was the convergence of internal combustion engine and cheap energy to create the automobile characterized by the age of oil, automobiles and mass production (1929-1943). Currently, we are witnessing the fifth technological revolution in the age of information and telecommunication. The innovation that accompanies these technological revolutions replace existing business models through the process of creative destruction.
During the fourth revolution, the auto and other components (oil, steel, rubber) flourished whereas utilities and railroads which were prominent during the third revolution declined. Similarly, during the information technology revolution where internet and telecom stocks have surged, financial stocks suffered a setback in the value portfolios. Only after the technological revolution is stabilized due to the acceptance of new socioeconomic norms, value investing has outperformed historically.
---
Is Value Investing Dead? - No!
Read the article 

here
Critics of value investing would argue on its efficacy as the world has changed over the past few decades. Among these changes involve:
1) Intangible assets and share buybacks have grown in importance. Firms that are more reliant on either of these things may look artificially expensive on price/book, as book value doesn't capture internally developed intangible assets and share buybacks reduce book value.
2) Interest rates are much lower now than they were before the global financial crisis, which some have argued creates a headwind for value stocks.
3) As awareness of the value effect has grown, more investors have incorporated it into their investment decision-making, which could reduce its efficacy.
Interest rates could have a disproportionate effect on certain value-leaning sectors, but it isn't clear that falling interest rates are a net negative for broad value portfolios.
The chief reason for underperformance of value to growth stocks is that they have become cheaper relative to growth stocks. Value investing hasn't lost its luster, but it's necessary to be patient and selective about how you invest in value stocks.
---
Conclusion
Both the above articles provide broad perspectives on the philosophy of value investing. Growth companies have higher valuations as a bulk of their earnings are expected in the future. Growth companies also benefit from higher valuations due to lower interest rates but this situation is not everlasting. Traditionally, value has outperformed growth due to the optimism in human nature, extrapolation of the past into the future and the expectation of good times to continue for a much longer period. Therefore, the expectations built in growth stocks naturally end up being greater than reality.
From both the articles, it is clear that the value investing philosophy has underperformed the growth stocks in recent times but it is also conclusive that it could be too early to write it off based on recent performance especially when it boasts of an enviable track record.
---
---
Key Ideas from Buffett's letter to shareholders - 1977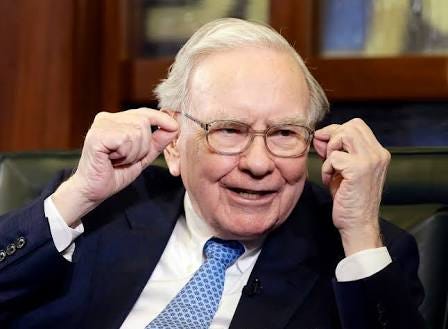 Photo - Warren Buffett - Flickr free photo -

AP Photo/Nati Harnik)
We would try to cover maximum key ideas and the wisdom encapsulated in the letters written by Warren Buffett to the shareholders of Berkshire Hathaway every month. It is recommended that the readers read the entire letter here to grasp the context in which some of the ideas have been articulated by Buffett.
On measures of business performance: Most companies define "record" earnings as a new high in earnings per share. Since businesses customarily add from year to year to their equity base, we find nothing particularly noteworthy in a management performance combining a 10% increase in equity capital and a 5% increase in earnings per share. We believe a more appropriate measure of managerial economic performance to be return on equity capital.
On reasons for continuing textile operations: (a)Largest employers with a labor force of high average age and non transferable skills (b) Workers and the union agreeing a cost structure and product mix to ensure a viable operation (c) Positive enthusiasm demonstrated by the management (d) With minor modifications, possibilities of running a good operation exists in the future
On suitable nature of business: It is comforting to be in a business where some mistakes can be made and yet a quite satisfactory overall performance can be achieved.
On type of business to invest: We want the business to be (1) one that we can understand, (2) with favorable long-term prospects, (3) operated by honest and competent people, and (4) available at a very attractive price.
On insurance companies and their management: Insurance companies offer standardized policies which can be copied by anyone. Their only products are promises. It is not difficult to be licensed, and rates are an open book. There are no important advantages from trademarks, patents, location, corporate longevity, raw material sources, etc., and very little consumer differentiation to produce insulation from competition. But there is no question that the nature of the insurance business magnifies the effect which individual managers have on company performance. We are very fortunate to have the group of managers that are associated with us.
On pricing of good companies in markets: Our experience has been that pro-rata portions of truly outstanding businesses sometimes sell in the securities markets at very large discounts from the prices they would command in negotiated transactions involving entire companies. Consequently, bargains in business ownership, which simply are not available directly through corporate acquisition, can be obtained indirectly through stock ownership. When prices are appropriate, we are willing to take very large positions in selected companies, not with any intention of taking control and not foreseeing sell-out or merger, but with the expectation that excellent business results by corporations will translate over the long term into correspondingly excellent market value and dividend results for owners, minority as well as majority.
Learning from the year: One of the lessons your management has learned - and, unfortunately, sometimes re-learned - is the importance of being in businesses where tailwinds prevail rather than headwinds.
---
Afterthought
"However beautiful the strategy, you should occasionally look at the results"

-Winston Churchill
---
And that is a wrap for the week. We hope you enjoyed reading this value investing special edition. If you found this newsletter useful and worth your time, do share it with your friends.
We are eager to hear from our readers. Please reach out to us by sharing your feedback as a reply to this email.
Take care, stay safe and have a nice weekend. We shall see you next Saturday